GripTil is a plastic floor system that is used as a plastic floor for garage, terrace flooring, flooring for balcony, flooring for warehouse, exhibition floor, fair stand floor, flooring for shop, flooring for shower, flooring for bathroom, floor for boat, floor for workplaces, floor for sauna, floor for whirlpool, floor for tent, swimming-pool flooring, motorsport floor and for floor for plastic giant games.
PLASTIC FLOORING SYSTEMS
Modular plastic floors are modern floorings offering a wide range of applications in all areas of the business as well as the private sector.
GripFlex PVC plastic floor is a plastic flooring used as a sports floor, sports surface, garage floor, industrial floor, gym floor, dumbbell floor, anti-slip floor, anti-vibration floor, dustproof surface, working surface.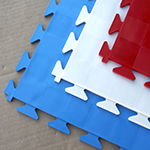 I bought my first GripFlex plastic floor a few years ago for my workbench. Since then I have found a number of options where to use it further. I have it at home in the garage and now also in the company's storage facilities. In addition, my colleague bought it for the gym under heavy equipment and he is also satisfied. The GripFlex floor I can only recommend.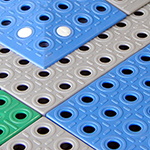 The GripTil plastic flooring system helped me to solve the problem with the broken concrete floor in my garage. It was enough to repair only the deepest holes and the rest was resolved by a plastic floor. Now I have a functional and aesthetic surface. It is also important that I did not have to invest to repair the floor in a rented building. If I relocate, I will disassemble the plastic floor and use it in a new place.
The modular system of perforated tiles in a hard or soft version.
Modular flooring system created of flexible tiles with covered locks.