The GripFlex flooring is a versatile plastic PVC floor system that can be used in industry, construction, agriculture and other areas of the business as well as in the private sector.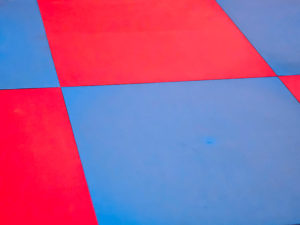 Thanks to the modular design of the system and the excellent mechanical and physical properties of the material, the application possibilities of the GripFlex floor are very wide. Useful features are also supported by quick and easy assembly and disassembly and color range. The system is very variable and can be installed almost anywhere where it is necessary to create an aesthetic surface with good utility properties at a reasonable price. At the same time, it can be used in areas where the installation is limited in time. The installed floor can be easily dismantled without tools and placed in another location.
Characteristics
modular plastic floor system with a basic segment dimension of 330 x 330 x 7 mm
sophisticated connection system with overlapped locks
resistance to most chemicals, oils, paints, acids, solvents
long-term UV resistance
shape stability and resistance in the temperature range from -30 to 60°C
vibration absorption, anti-slip and thermal insulation properties
easy cleaning in all ways – pressure, chemical, vacuum, wipe
durable multi-use flooring
aesthetic, non-absorbent, flexible, non-slip, dust-free surface with no gaps
System description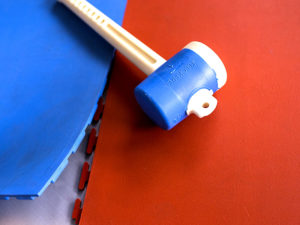 The basic element of the system is a segment ot the dimensions 330 x 330 x 7 mm. The PVC floor is flexible, but with sufficient strength and resistance to damage and wear. The individual segments of the plastic flooring system fit together with overlapped locks to create a solid and compact surface without gaps. The joints can also be glued to create an impermeable surface. The design of the upper part of the floor is non-slip with texture.
The wide range of applications of this plastic floor covering is supported by the PVC material used and the modular design of the system, ensuring a firm connection and quick and easy installation. It can be used wherever it is necessary to create a resistant, durable and flexible surface with good utility properties at a reasonable price. Installation is very easy, the tiles can be laid on most flat or slightly undulating surfaces. If the space is irregular in shape, the required shapes are simply cut with a saw or a knife. A damaged floor section can be easily replaced. If floor removal is required, it can be easily disassembled, cleaned and reused elsewhere.
Installing the system
Installation is very easy, it takes approximately 1.5 minutes to install 1 square meter. Individual tiles have a system of locks that fit together so they are laid one after the other and the joint is knocked with a rubber mallet. Dismantling is very simple, just disassemble the tiles manually.
When installing the flooring in areas with temperature fluctuations, it is necessary to take into account the expansion according to the type of material approx. 1-3mm/m.