The sports surface of the multifunctional playground realized with the GripTil plastic system near Jesenik in Czech Republic.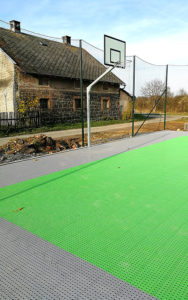 The central surface is made in green, with a gray stripe at the edge. A soft version of the GripTil system was used for the installation. The underlying surface is a concrete slab that does not need to be modified in any way. The plastic sports surface is placed just on a flat concrete surface.
The playground is designed especially for ball games such as basketball, volleyball, football etc. Thanks to the holes in the surface and drainage channels the playground can be used immediately after the rain because the rest of the water flows away below the sports floor.