GripFlex PVC plastic tiles are a new product that complements the range of our flooring systems. PVC floor GripFlex is a product made of polyvinyl chloride, which gives the plastic floor the necessary flexibility while maintaining high strength and wear resistance.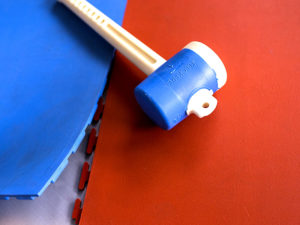 Thanks to the modular design of the system and the mentioned excellent mechanical and physical properties, the application possibilities of the GripFlex floor are more than wide. Useful features are supported by quick and easy assembly and disassembly as well as color range.
The system is very variable and can be installed almost anywhere where is necessary to create an aesthetic surface with good utility properties at a reasonable price. It can be used not only as a flooring system but also as a flexible and durable working surface as shown in the picture. From an old and destroyed workbench, you can quickly and easily create a quality workspace. This demountable system can be used in areas where the installation is limited in time. The installed floor can be dismantled without tools and placed in another place. More details about the system are on the page GripFlex.